Privacy Policy
Frédérique Constant S.A. (hereinafter "Frédérique Constant" or "we" or "us") appreciates your interest in our products and your visit to our Website.
With the aim of making you feel comfortable when you visit our Website, we have established these privacy policies to give you as much control as possible over your personal information.
We wish to inform you of what we do with your information and that we will use it for the purposes expressed in this Privacy Policy in accordance with national and international privacy laws.
This privacy policy applies to Frédérique Constant S.A, a subsidiary of the Frédérique Constant Holding S.A. group.

1. Who is responsible for processing your personal data?
• Identity of the data controller: Frédérique Constant S.A(hereinafter "Frédérique Constant")
• Postal address of the responsible person: Frédérique Constant SA, 32 Chemin du Champ des Filles, CH1228 Plan-les-Ouates, Geneva, Switzerland.
• Email: privacy@frederique-constant.com
2. What are the sources of your personal data?
This policy applies to all data we collect from you from the following sources:
• The Website and applications for smartphones. Also included are the social networks on which we are present as administrators.
• Online registration forms
• Communications with Frédérique Constant by: email, request for information or assistance to the online customer service (help desk) and newsletter subscriptions.
• Online shop.
Important: we remind you that all commercial transactions for which data relating to bank accounts or payment information must be provided will be processed by a third party responsible for processing payments with its own data protection policies. This outsourcing is justified by law to ensure compliance with legal and security obligations.
• Other forms or online registrations
•Exceptionally, we may receive your data from other subsidiaries of the group for marketing or advertising purposes. In this case, these data will immediately be subject to the application of this policy.
3. Our purposes for processing your data

At Frédérique Constant, we comply with the provisions of the EU Regulation (GDPR) 2016/679, of 27 April 2016 and its amendments (Articles 3 and 27) and the Swiss Federal Data Protection Act (LPD) of March 2019, regarding the protection of natural persons, personal data and their free movement.

In accordance with the above regulations, we inform you of the purposes for which your data is processed:

– E-commerce: we use your data for the performance of any contract derived from the purchase of products on this Website or their receipt by other purchase channels. All data concerning payment will be processed by a third party with their own policy privacy and we limit our liability in this regard.
– Newsletter: with your consent, we will provide you with advertisements of interest to you as well as any other important information about our products.
– Customer support service via tickets: your data will be used to identify you as a customer and to be able to respond to your concerns or requests via our online customer support centre.
– We collect the stored information to improve the usefulness of the Website..We will retain and evaluate information on your recent visits to our website and how you move around different sections of our website for analytics purposes to understand how people use our website so that we can make it more intuitive.
-We will keep a record of the articles on our website that you have clicked on and use that information to target advertising on this website to you that is relevant to your interests, which we have identified based on articles you have read.

4. What personal data do we process?
For the purposes indicated above, we may process the following categories of personal data:

– Identification and contact data: last name, first name, ID, telephone, gender and age, country and language, date of birth, postal address or email address.
– Data on social circumstances, preferences or other data of interest that may result from the forms you fill out. Data for statistical purposes are included in this section.
– Data relating to the product purchased, such as its serial number, reference number, edition type, distribution centre, product name and price.
– Data required for the online purchase: your payment data, your tax identification number if necessary, and your identity documents for these purposes.

Important: Your payment information may be communicated to a third-party payment server. This is done securely and using encryption, in compliance with the legal obligations applicable to electronic commerce.
When browsing the Website, certain information may be collected passively (i.e. collected without you actively providing the information). Frédérique Constant may collect information about your computer and Internet connection, including your IP address, operating system and browser type, for administration of the system and to report aggregated information to advertisers. These are statistical data about users' equipment, actions and browsing habits, and do not identify any individual.

5. Links to third parties
The Website may contain links to websites that do not belong to Frédérique Constant. Frédérique Constant is not responsible for these websites' privacy practices.

6. Retention of Personal Data
Our Company securely stores your data at Hubspot. They took their own security precautions, for more information, see https://www.hubspot.com/data-privacy/gdpr/product-readiness.
In accordance with commercial practice and the law, we will not retain personal data for longer than necessary for our commercial purposes. Your data will be archived and stored in accordance with the law. As soon as it is no longer necessary to keep them, they will be blocked or permanently deleted.

7. To which recipients will your personal data be communicated?
We neither sell nor provide information collected or retaned about you to other thrid parties, except to entities or subsidiaries of the Frederique Constant group, their agents, affiliates or subcontractors (to the extent necessary for the performance o their duties). These third parties are subject to strict contractual obligations that have been designed to protect and maintain the confidentiality of your personal information which they are not permitted to use for purposes other than those specified in this Privacy Policy.

It is possible that certain data may be communicated to other subsidiaries belonging to the Frédérique Constant Holding S.A. group, without your permission being necessary, unless otherwise stipulated by law. Also, we may communicate your personal data where necessary to comply with laws and regulations or at the request of the competent authorities.

8. Cross-border transfer

The storage and processing of your Personal Data as described above may require that your Personal Data be further transferred/transferred to and/or stored at a destination outside your country of residence, in particular Switzerland. We may also transfer your Personal Data to countries outside the European Economic Area ("EEA") (e.g. other entities or subsidiaries of the Frederique Constant group, their agents, affiliates or subcontractors), including countries that have different data protection rules or standards than those applicable in the EEA. These third parties are subject to strict contractual obligations that have been designed to protect and maintain the confidentiality of your personal information which they are not permitted to use for purposes other than those specified in this Privacy Policy. 
9. What are your rights?
Frédérique Constant and its subsidiaries endeavour to ensure your data are properly processed and respect the rights arising from their transmission.
Your rights are as follows:

• Know whether we process your personal data and for what purpose
• Access the data being processed and request their portability
• Request rectification in case of inaccuracy or error
• Request erasure of the data or limitation of the processing
• Withdraw authorisation

In all cases and upon request, Frédérique Constant will delete your personal information from its database, thus cancelling your subscription to one or all of our services or modifying, limiting and informing you of your data. To exercise this option, you can contact privacy@frederique-constant.com

10. Revision of the Privacy Policy

Frédérique Constant reserves the right to modify, alter or update this Policy from time to time and you agree to be bound by such modifications, alterations or updates. If this policy changes, the revised policy will be displayed on the Website. Please check periodically and/or before providing personally identifiable information.

11. Applicable law

The Privacy Policy is governed by and interpreted in accordance with Swiss law. The Parties agree that the courts of Geneva will have jurisdiction to resolve any dispute that may arise from, under or in connection with this Privacy Policy.


12. Cookies we use
Cookies are small text files placed on your computer or device that you use to access our Websites or mobile applications. Cookies store information about your visit to our Website and allow us to offer you a personalised experience during each visit.
We use cookies to improve the use of our services and to improve your browsing experience. However, you may decide to configure your web browser to refuse our cookies. We do not use cookies to collect personal information such as your name.

There are several ways to manage cookies. Most web browsers are initially configured to automatically accept cookies. You can change your browser settings to block cookies systematically or according to their origin or to alert you when cookies are recorded. The procedure for managing cookies is slightly different for each web browser. You can view the steps for managing cookies in your browser's help menu. List of cookies we use on our services. The following tables describe the cookies used on our Websites. The list may not be exhaustive.
Types of cookies
-Required
Cookies classified in the "Required" category are stored on your browser because they are essential to allow the basic functions of the website. These cookies are required for operation of the website and cannot be disabled in our systems. They do not store any personal information about you.
-Functional
Functional cookies help perform certain functions such as sharing website content on social media platforms, collecting feedback, and other third party functions.
-Analytical
Analytical cookies are functional cookies that enable certain functions to be performed, such as sharing website content on social media platforms, collecting feedback, and other third-party functions. These cookies help provide information about metrics such as the number of visitors, the bounce rate, the source of traffic, etc.
-Performance
Performance cookies are used to understand and analyse the website's key performance indices, which helps to provide a better user experience to visitors.
-Advertising
Advertising cookies are used to provide visitors with personalised advertisements based on previously visited pages and to analyse the effectiveness of advertising campaigns.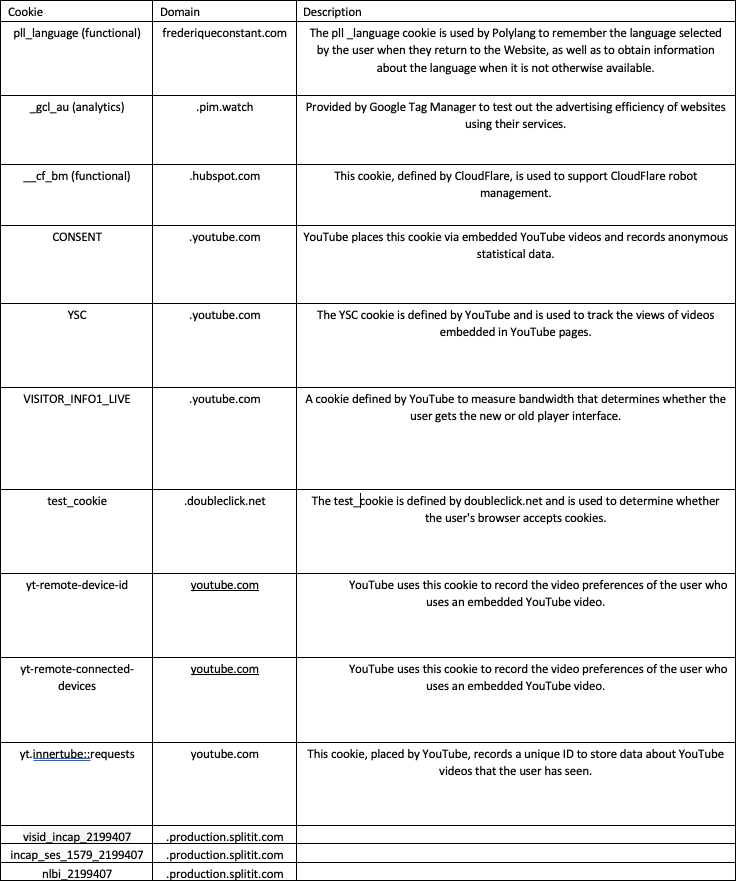 Web beacons
The pages of the Website may contain electronic images known as web beacons (also known as single pixel gifs) that allow Frédérique Constant to count the users who have visited its pages and for other statistics related to the Website (e.g. recording the popularity of the content of certain Websites and verifying the integrity of the system and the server).
Web beacons are not used to access your personal information and data on the Website and are only used to compile aggregated statistics regarding use of the Website.
Last updated: September 2022